Interviewee Profile
Name: Sherap Jungnay
(Alias: No)
Gender: Male
Interview Age: 86
Date of Birth: 1924
Birthplace: Lhasa, Utsang, Tibet
Year Left Tibet: 1959
Profession: Monk
Monk/Nun: Previously
Political Prisoner: No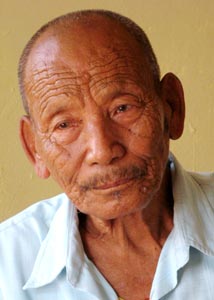 Interview Details
Interview No.: 17M
Date: 2010-04-07
Language: Tibetan
Location: Doeguling Settlement, Mundgod, Karnataka, India
Categories: Resistance and Revolution
Keywords: business practices/livelihood, childhood memories, Dalai Lama, escape experiences, festivals, March 10th Uprising, monastic life, resistance fighters, songs/opera, trade, Utsang
Summary:
Sherap Jungnay was born in Lhasa to a Chinese father and a Tibetan mother. He became a monk at the age of 6 by joining Meru Monastery, which is believed to be the first monastery built in Tibet. His father's livelihood was making Chinese boots known as shurtsi and his mother engaged in jewelry trade. He describes the intricacies of the jewelry business in Lhasa.

Sherap Jungnay first saw the Chinese presence in Lhasa when he was around 12 years old. At age 14 he sang in a traditional opera as part of the installation ceremony for the 14th Dalai Lama. The people of Lhasa decided to organize secret resistance movements under the pretext of different activities such as Serti Mimang 'Peoples' Golden Throne,' Sangrup Mimang 'Peoples' Incense Group' and Dupthola Mimang 'Peoples' Saint.' Thousands of people joined the meetings to secretly discuss how to deal with the Chinese.

Sherap Jungnay describes how the plans formulated were executed and how the ultimate plan to kill two Chinese officials failed. Sherap Jungnay likens the attack on Lhasa in 1959 to "a tragedy similar to hell on earth." He joined a group escaping to India, which included Gyerong Khen Rinpoche and relates his success in escorting the incarnate lama safely to India along with a book of scriptures.
Interview Team:
Marcella Adamski (Interviewer)
Tenzin Yangchen (Interpreter)
Pema Tashi (Videographer)
Interview Video
Link: Watch On Youtube
Topic: Interview with Sherap Jungnay on 4/7/2010
Length: 02:03:16
Short Videos
Link: Watch On Youtube
Topic: Building the Golden Throne for the Dalai Lama
Length: 00:02:48
Link: Watch On Youtube
Topic: Performing a Tibetan Opera for the Dalai Lama's Installation
Length: 00:03:02