Interviewee Profile
Name: Sueshap Phuntsok Tsering
(Alias: No)
Gender: Male
Interview Age: 80
Date of Birth: 1932
Birthplace: Dachi - Lhoka, Utsang, Tibet
Year Left Tibet: 1959
Profession: Servant
Monk/Nun: Previously
Political Prisoner: No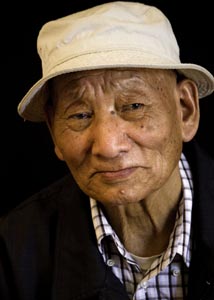 Interview Details
Interview No.: 22D
Date: 2012-05-15
Language: Tibetan
Location: Mcleod Ganj, Dharamsala, Himachal Pradesh, India
Categories: Culture and History
Keywords: childhood memories, customs/traditions, Dalai Lama, escape experiences, festivals, March 10th Uprising, monastic life, Potala Palace, servitude, Utsang, wealthy/upper class
Summary:
Sueshap Phuntsok Tsering was born into a wealthy family in the city of Dachi, Lhoka in Utsang Province. His family led a comfortable life with servants, vast farmlands and a large number of animals. He describes in details how he was brought to the Namgyal Monastery in the Potala Palace and how he became a dayok 'monk servant' to his uncle. His responsibilities of a dayok involved working in the kitchen to prepare meats and vegetables for the cooks.

Sueshap Phuntsok Tsering later became one of four cooks at the monastery and recounts the different types of meals that used to be prepared in the kitchen. He talks in depth about preparing ordinary meals as well as elaborate feasts served during special occasions like the Tibetan New Year and other festivals.

Sueshap Phuntsok Tsering personally witnessed the shelling of the Norbulingka, the summer palace of His Holiness the Dalai Lama. He was very relieved to have the knowledge that the Dalai Lama had already fled from Lhasa at that time. He recounts how Chinese soldiers, ignorant about the successful escape of the Dalai Lama, searched among the dead bodies of monks at the Norbulingka. He and the younger monks of Namgyal Monastery fled without their possessions during the night of March 11, 1959 and were forced to become beggars after escaping into Bhutan.

Interview Team:
Marcella Adamski (Interviewer)
Tenzin Yangchen (Interpreter)
Pema Tashi (Videographer)
Interview Video
Link: Watch On Youtube
Topic: Interview with Sueshap Phuntsok Tsering on 5/15/2012
Length: 01:30:29