Interviewee Profile
Name: Samten
(Alias: No)
Gender: Male
Interview Age: 82
Date of Birth: 1930
Birthplace: Yawu, Utsang, Tibet
Year Left Tibet: 1961
Profession: Monk
Monk/Nun: Currently
Political Prisoner: Yes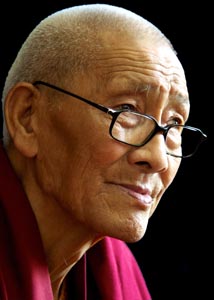 Interview Details
Interview No.: 34D
Date: 2012-05-20
Language: Tibetan
Location: Mcleod Ganj, Dharamsala, Himachal Pradesh, India
Categories: Oppression and Imprisonment
Keywords: Chinese -- oppression under, Chushi Gangdrug guerrillas, escape experiences, forced labor, imprisonment, monasteries -- destruction of , monastic life, thamzing/struggle sessions, Utsang
Summary:
Samten is the youngest of 3 children and his parents were farmers in Yawu who grew barley, peas and wheat in their field. He coughed frequently as a young child and recalls a divination that declared he should become a monk in order to live a long life. So at the age of 5 he joined the local Gyangtse Shinay Monastery. Samten describes the famous Gyangtse Bakor Chorten, one of the biggest stupas in Tibet. He talks about his daily routine and assignments as a monk at the local monastery and later Drepung Monastery.

Samten spent only six years at Drepung and then returned to the Gyangtse Monastery. He vividly remembers how the Chinese launched the Reformation program when the 2,000 monks from 16 monasteries in his region were forced to assemble and interrogated. Many false accusations were made by spies among the monks and arrests were made. Earlier some of the monks had left the monastery to join the Chushi Gangdrug Defend Tibet Volunteer Force.

All of the monks in the local monasteries were expelled and told to go home. Samten and a small number of monks decided to remain in the monastery when the Chinese offered them "freedom of religion," but later realized that the promise was false. He relates how the monks were forced to labor in the fields and constantly lectured about how religion was poison. After more than half of the remaining monks were arrested, Samten and three other monks fled to Buxar in India.

Interview Team:
Rebecca Novick (Interviewer)
Ronny Novick (Videographer)
Thupten Kelsang Dakpa (Interpreter)