Interviewee Profile
Name: Samten
(Alias: No)
Gender: Male
Interview Age: 78
Date of Birth: 1942
Birthplace: Lhasa, Utsang, Tibet
Year Left Tibet: 1959
Profession: Monk
Monk/Nun: Previously
Political Prisoner: No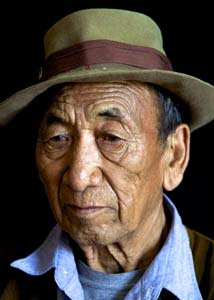 Interview Details
Interview No.: 42D
Date: 2012-05-15
Language: Tibetan
Location: Mcleod Ganj, Dharamsala, Himachal Pradesh, India
Categories: Resistance and Revolution
Keywords: Chinese army -- invasion by , Dalai Lama -- escape, March 10th Uprising, monastic life, resistance fighters, Utsang
Summary:
Samten became a monk at the age of 10 at his parents' insistence. He joined the Sera Monastery near Lhasa and wanted to study the scriptures. He gives a description of a monk's daily routine and different responsibilities as well as the sources of food and income for the monastery. He was forced to give up his monk's vows at the age of 25 when he chose to pick up a gun and try to fight against the occupation of Tibet by the Chinese.

Samten recalls how the Chinese deceived the Tibetans with money and development. Samten was one among the group of 2,000 monks who went to the Potala Palace to fetch weapons to try to resist the Chinese army. He witnessed the shelling of the Chokori, a hill facing the Potala Palace, and Norbulingka [Dalai Lama's Summer Palace]. They could not see any Chinese soldiers to challenge to a fight. He speaks about the people of Lhasa surrounding Norbulingka to stop His Holiness the Dalai Lama from leaving to attend a Chinese show. He also relates the stoning to death of a clergyman in the Tibetan Government suspected to be a Chinese spy.

Samten and the other monks waited for a chance to attack the Chinese army camp, but soon learned that the Dalai Lama had escaped to India and were told to flee themselves. He felt that he was a failure for not being able to defend his country, but was happy to know that the Dalai Lama was safe in India. Samten worked for the Tibetan Government's Home Department in Dharamsala, India for 18 years.

Interview Team:
Rebecca Novick (Interviewer)
Ronny Novick (Videographer)
Thupten Kelsang Dakpa (Interpreter)