Interviewee Profile
Name: Phari Wangdu
(Alias: No)
Gender: Male
Interview Age: 86
Date of Birth: 1926
Birthplace: Shigatse, Utsang, Tibet
Year Left Tibet: 1959
Profession: Trade
Monk/Nun: No
Political Prisoner: No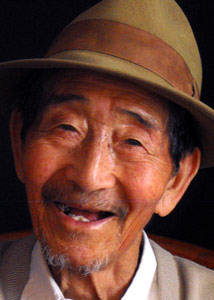 Interview Details
Interview No.: 45D
Date: 2012-05-22
Language: Tibetan
Location: Mcleod Ganj, Dharamsala, Himachal Pradesh, India
Categories: Culture and History
Keywords: army -- Tibetan, customs/traditions, Dalai Lama, escape experiences, refugee in India -- life as, taxes, trade, Utsang
Summary:
Phari Wangdu is from Shigatse in Utsang Province. One of his older brothers was a ngagpa 'shaman' and the other one was sent to be a soldier in the Tibetan Government Army in Phari Wangdu's place. Army soldiers were provided only guns and ammunition by the army and local villagers were required to pay the soldiers salary. When his brother reached Chamdo with the army they were told not to fight the Chinese and sent home.

In addition to working in the fields with his family, Phari Wangdu performed wulak 'labor tax,' for which farmers were required to provide horses and pack animals to transport government officials and their goods to other villages. Phari Wangdu's was a trader and travelled frequently to Kalimpong, India trading wool for tea. He moved to Phari after his marriage to a girl there.

Phari Wangdu recalls his unforgettable good fortune of having the opportunity to escort His Holiness the Dalai Lama from Dromo to Gyangtse. He provides an account of his duty as a transporter and the royal horses, mules and various other preparations for the journey. He also recounts the risks he took for his countrymen by carrying letters sewn in his coat from the Chushi Gangdrug [Defend Tibet Volunteer Force] men that had fled to Kalimpong to their wives back in Phari. He describes his family's escape journey and their detention in Bhutan and work in Shimla [Himachal Pradesh, India] for 10 years on road construction and finally in Dharamsala.

Interview Team:
Rebecca Novick (Interviewer)
Ronny Novick (Videographer)
Thupten Kelsang Dakpa (Interpreter)
Interview Video
Link: Watch On Youtube
Topic: Interview with Phari Wangdu on 5/22/2012
Length: 01:46:48