Interviewee Profile
Name: Urgen Tsering
(Alias: No)
Gender: Male
Interview Age: 88
Date of Birth: 1924
Birthplace: Shungpa, Utsang, Tibet
Year Left Tibet: 1968
Profession: Nomad
Monk/Nun: No
Political Prisoner: No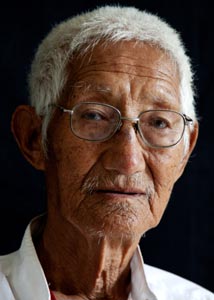 Interview Details
Interview No.: 50D
Date: 2012-05-18
Language: Tibetan
Location: Tashi Jong, Tashi Jong, Himachal Pradesh, India
Categories: Culture and History
Keywords: escape experiences, nomadic life, refugee in India -- life as, salt trade, taxes, trade, Utsang
Summary:
Urgen Tsering is from Shungpa Marzen where residents paid taxes to the Tibetan Government and the district of Ngari Gar. His family herded animals and traded in salt as well. He gives a detailed account of salt gathering and the journey to Porang near the Indian border to barter salt for grains. He describes the caravan of 300-400 salt laden sheep that made two or three trips in a year to the saltpans.

Urgen Tsering laments that people in his region suffered from incredibly exorbitant taxes. He gives a comprehensive list of the kinds of taxes the people paid, including a gold tax to the Tibetan Government, which was mined at a region called Dijungthok. His family was most affected by the taxes on their animals, which required a payment of one sheep or goat for every 15 that they owned.

Urgen Tsering explains how the taxes were assessed and common people exploited by the officials that came to collect taxes along with their many assistants. Taxes were collected twice each year and the villagers must supply food and housing for the visiting tax collectors. They were also required to help the government transport goods for six days by supplying men and pack animals whenever needed.

Interview Team:
Rebecca Novick (Interviewer)
Ronny Novick (Videographer)
Thupten Kelsang Dakpa (Interpreter)
Interview Video
Link: Watch On Youtube
Topic: Interview with Urgen Tsering on 5/18/2012
Length: 01:24:25