Interviewee Profile
Name: Tenzin Wangmo
(Alias: No)
Gender: Female
Interview Age: 75
Date of Birth: 1937
Birthplace: Khangzikha, Kham, Tibet
Year Left Tibet: 1959
Profession: Farming
Monk/Nun: No
Political Prisoner: No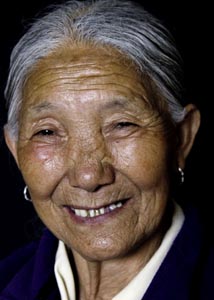 Interview Details
Interview No.: 66D
Date: 2012-05-20
Language: Tibetan
Location: Mcleod Ganj, Dharamsala, Himachal Pradesh, India
Categories: Chinese Invasion and Occupation
Keywords: childhood memories, Chinese -- first appearance of, Chinese rule -- life under, escape experiences, Kham, poor/lower class, refugee in India -- life as
Summary:
Tenzin Wangmo was born in Khangzikha village in Kham which consisted of 35 families. Her family was poor so even from young age she had to work in the fields and look after the animals. She remembers searching for mushrooms in the mountains. She didn't spend any time playing with other children, but does recall having picnics with other girls during festival times.

Tenzin Wangmo narrates her feeling about the Chinese when they first arrived in her village driving yaks and mules. She recalls the Chinese deceived them by helping with fieldwork and behaving in a friendly manner. At age 21 Tenzin Wangmo and a few friends ran away from their village to Lhasa out of curiosity. In Lhasa she found employment first with a Tibetan family and then later mixing coal with soil for the Chinese because they paid well. At that time she stayed with her brother, a monk living in Drepung Monastery.

Tenzin Wangmo describes how suddenly the Chinese attacked Lhasa and how she fled with some of the monks of Drepung Monastery. The escape was a difficult journey and many were killed by the Chinese along the way. When they reached Mon Tawang in India they had to beg for food. Tenzin Wangmo feels blessed to be able to often see His Holiness the Dalai Lama since she now resides in Dharamsala.

Interview Team:
Martin Newman (Interviewer)
Tenzin Yangchen (Interpreter)
Pema Tashi (Videographer)
Interview Video
Link: Watch On Youtube
Topic: Interview with Tenzin Wangmo on 5/20/2012
Length: 00:56:52