Interviewee Profile
Name: Thupten Palmo
(Alias: No)
Gender: Female
Interview Age: 78
Date of Birth: 1934
Birthplace: Kyirong Magal Thoe Surtso, Utsang, Tibet
Year Left Tibet: N/A
Profession: Nun
Monk/Nun: Currently
Political Prisoner: No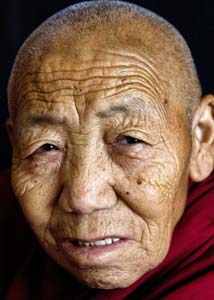 Interview Details
Interview No.: 67D
Date: 2012-05-22
Language: Tibetan
Location: Mcleod Ganj, Dharamsala, Himachal Pradesh, India
Categories: Buddhist Traditions
Keywords: Chinese -- first appearance of, monastic life, Utsang
Summary:
Thupten Palmo is from the Utsang region. She recalls living with her mother as a little child and going to graze animals. Later she went to receive teachings from a lama called Napta Rinpoche, who lived in a nearby monastery and mainly in solitary retreat. She became a nun around the age 17 or 18 and served the lama as one of his cooks.

Thupten Palmo gives an account of the lives of nuns and monks in the Napta Monastery and the prayers they performed. She tells how the poorer monks and nuns had to beg for sonyom 'alms' and went on yulong, 'begging for grains at the time of harvest.' She also compares life and other aspects of activities in the nunnery in Tibet to the nunneries in India.

Napta Rinpoche left his monastery after the Chinese began observing the Tibetans' activities. He retreated to an older, dilapidated monastery but passed away soon after. Thupten Palmo sadly remembers how his death rituals were performed. She explains the sometimes strange phenomenon associated with the death of great lamas, such as remaining conscious after their physical death.

After Napta Rinpoche's death, the monks and nuns dispersed and Thupten Palmo left Tibet with her mother and brother. She lived for three years in Tsum, Nepal and then went to India.

Interview Team:
Rebecca Novick (Interviewer)
Ronny Novick (Videographer)
Thupten Kelsang Dakpa (Interpreter)
Interview Video
Link: Watch On Youtube
Topic: Interview with Thupten Palmo on 5/22/2012
Length: 01:00:13