Interviewee Profile
Name: Lama Lodu Rinpoche
(Alias: No)
Gender: Male
Interview Age: 72
Date of Birth: 1942
Birthplace: Rumtek, Sikkim, India
Year Left Tibet: N/A
Profession: N/A
Monk/Nun: Previously
Political Prisoner: No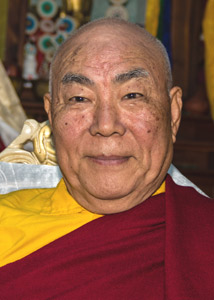 Interview Details
Interview No.: 8C
Date: 2013-06-17
Language: Tibetan
Location: San Francisco, California, United States
Categories: Buddhist Traditions
Keywords: Buddhist beliefs, childhood memories, farm life, Karmapa, monastic life, Sikkim
Summary:
Lama Lodu Rinpoche was born in Rumtek, Sikkim in 1942 and currently lives in San Francisco, California in the United States. His father was of Tibetan heritage and his mother was from Sikkim. They earned a livelihood as farmers and nomads, but Rinpoche explains that nomads in Sikkim were different from Tibetan nomads because they did not migrate with their flocks. Lama Lodu Rinpoche expresses his gratitude towards his parents who were devout Buddhist practitioners and instilled in him the importance of such a practice.

Lama Lodu Rinpoche became a monk at the age of 5 and joined the Rumtek Monastery at the age of 8. He gives a detailed account of his life as a dharma practitioner in the monastery. He belongs to the Kagyu sect of Tibetan Buddhism and talks about his education at the monastery and the intensive meditation practice in a cave that he underwent as a 13 year old. At the age of 17 he was sent to a retreat center in Bhutan at the request of the 16th Karmapa Rigpe Dorjee and remained in meditation for three years.

At the request of Kalu Rinpoche and the Karmapa, Lama Lodu Rinpoche went to the United States in 1974 to teach the dharma to Western students. He briefly explains some of the basic concepts in Tibetan Buddhism. He describes how Buddhism can be instrumental in making our life purposeful and how it is spreading around the world. He offers his views on the self-immolations taking place in Tibet, emphasizing the importance of human life.

Interview Team:
Hilary Kaiser (Interviewer)
Tony Sondag (Videographer)
Tenzin Tsedup Wangdu (Interpreter)
Interview Video
Link: Watch On Youtube
Topic: Interview with Lama Lodu Rinpoche on 6/17/2013
Length: 01:42:52