Interviewee Profile
Name: Jangchup Palmo, Naljorma
(Alias: No)
Gender: Female
Interview Age: 70
Date of Birth: 1943
Birthplace: Namru, Utsang, Tibet
Year Left Tibet: N/A
Profession: Yogini
Monk/Nun: No
Political Prisoner: Yes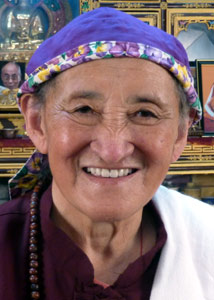 Interview Details
Interview No.: 13C - Part 1
Date: 2013-07-07
Language: Tibetan
Location: Cottage Grove, Oregon, United States
Categories: Buddhist Traditions, Oppression and Imprisonment
Keywords: brutality/torture, Buddhist beliefs, childhood memories, Chinese army -- invasion by , escape experiences, Utsang
Summary:
Naljorma Jangchup Palmo was born in Jang Namru to a wealthy and influential family. Her father was the leader of the village. She remembers fondly visiting their monastery every winter which was six days away on horseback. During the summer, her family hosted the monks in their home and there was a horse race every year. At the age of 13 Naljorma Jangchup Palmo's family sponsored a special series of Buddhist teachings and required her to listen to them daily for three months. She explains about her unique nature and interest in Buddhism from a very young age.

Naljorma Jangchup Palmo describes visiting Lhasa at the age of 14 and her first experience with the Chinese. She notes their initial attempt to win over aristocrats and other influential Tibetans with dhayen 'Chinese silver coins,' but later came a change in attitude as the Chinese began arresting and subjecting the leaders and the influential people to thamzing 'struggle sessions.'

After receiving the news that the Chinese had occupied Lhasa, her father led the entire village in a vain attempt to flee. Her father was killed by the Chinese and Naljorma Jangchup Palmo was shot several times by the Chinese and detained. She describes another foiled escape that resulted in the death of more family members and finally her successful third attempt. She then practiced the Buddhist dharma at Mt. Kailash for several years and learned to forgive the Chinese.
Interview Team:
Marcella Adamski (Interviewer)
Anonymous (Interpreter)
Jeddadiah Emanuel (Videographer)
Interview Video
Link: Watch On Youtube
Topic: Interview with Naljorma Jangchup Palmo on 7/7/2013
Length: 02:48:49