Interviewee Profile
Name: Tsering Tashi
(Alias: No)
Gender: Male
Interview Age: 71
Date of Birth: 1936
Birthplace: Phenpo, Utsang, Tibet
Year Left Tibet: 1959
Profession: Farming, Monk
Monk/Nun: Previously
Political Prisoner: No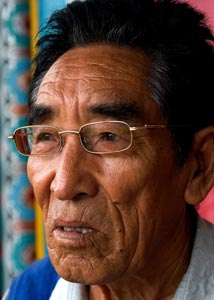 Interview Details
Interview No.: 35
Date: 2007-06-27
Language: Tibetan
Location: Lugsung Samdupling Settlement, Bylakuppe, Karnataka, India
Categories: Resistance and Revolution
Keywords: Chinese rule -- life under, Chushi Gangdrug guerrillas, escape experiences, farm life, refugee in India -- life as, taxes, tenant farmers, Utsang
Summary:
Tsering Tashi's recalls working from an early age in the fields with his parents. Since they did not own their land, they had to work twice as hard to pay taxes. When the Chinese arrived they began demand grains from the farmers. Two years after the Chinese' arrival, Tsering Tashi's father died while working at a Chinese construction site. It fell upon Tsering Tashi to take care of his family because his older brother was a monk living in a monastery.

Being young and daring, Tsering Tashi decided to join the Chushi Gangdrug Volunteer Force in their fight against the Chinese. When their resistance efforts were crushed by the Chinese military, Tsering Tashi escaped to India with the remaining guerrillas.

Crossing over the mountain passes, the Resistance Fighters reached Tawang in Arunachal Pradesh, India, where they survived by taking turns begging. After spending four months in the extremely hot region of Missamari and watching six or seven Tibetan refugees die each day from the poor conditions, Tsering Tashi was sent to construct roads in Bomdila. He subsequently joined the Indian army in 1961 and later settled in Bylakuppe in 1975.
Interview Team:
Martin Newman (Interviewer)
Lhakpa Tsering (Interpreter)
Tsewang Dorjee (Videographer)
Interview Video
Link: Watch On Youtube
Topic: Interview with Tsering Tashi on 6/27/2007
Length: 02:00:34