Interviewee Profile
Name: Gangtso
(Alias: No)
Gender: Female
Interview Age: 56
Date of Birth: 1951
Birthplace: Dawa, Utsang, Tibet
Year Left Tibet: 1959
Profession: Herding
Monk/Nun: No
Political Prisoner: No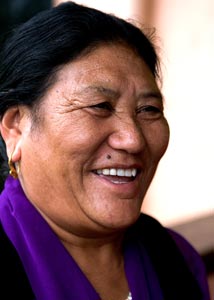 Interview Details
Interview No.: 39
Date: 2007-06-27
Language: Tibetan
Location: Lugsung Samdupling Settlement, Bylakuppe, Karnataka, India
Categories: Chinese Invasion and Occupation
Keywords: childhood memories, Chinese rule -- life under, escape experiences, monasteries -- destruction of , refugee in India -- life as, Utsang
Summary:
Gangtso was born into a family of six sisters and her parents separated when she was very young. Her mother passed away when Gangtso was 8 years old and she and her younger sisters each went to live with an older, married sister. Her pleasant memories of those days are of the snow-capped mountains, the grasslands, the river and ice skating.

As a young child, Gangtso witnessed the Chinese beating Tibetans and forcing them to demolish the local monastery and burn the scriptures. Gangtso remembers, "I felt very sad when they destroyed the monastery. I had no parents and the monastery was being destroyed. I cried a lot." On an impulse, she and one sister, while grazing their cattle, decided to flee to India. Without informing their elder siblings, they made an all day and all night journey over the border without food or water. Gangtso was only 11 years old during the escape.

After a month in a refugee camp, Gangtso and her sister were given a room in a house and some land to farm in Mundgod, India. Later Gangtso married and took a position as matron of the Tibetan Children's Village in Bylakuppe so that her three children could receive an education.
Interview Team:
Martin Newman (Interviewer)
Lhakpa Tsering (Interpreter)
Tsewang Dorjee (Videographer)