Interviewee Profile
Name: Lobsang Tashi
(Alias: No)
Gender: Male
Interview Age: 74
Date of Birth: 1933
Birthplace: Ngari Dhargayling, Utsang, Tibet
Year Left Tibet: 1959
Profession: Dairy Farming
Monk/Nun: No
Political Prisoner: No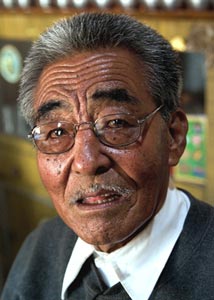 Interview Details
Interview No.: 72
Date: 2007-07-03
Language: Tibetan
Location: Dickey Larsoe Settlement, Bylakuppe, Karnataka, India
Categories: Culture and History
Keywords: childhood memories, customs/traditions, escape experiences, festivals, nomadic life, refugee in India -- life as, salt trade, Utsang, wealthy/upper class
Summary:
As prosperous nomads in the Ngari Dhargayling region of Tibet, Lobsang Tashi's family held the title Tsorpon because they owned the most cattle in the region. Lobsang Tashi describes his family's work of caring for their domestic animals and traveling to Jang Tsakha to gather salt, which they bartered for grains in Bhutan.

Lobsang Tashi also explains the annual horse races that took place in his village, detailing how the Tibetans trained the horses to race and prepared them for the event. When Lobsang Tashi was only 16 his father died, making him responsible for the family, including tending the livestock and paying taxes.

Living far from Lhasa, he and others in Ngari Dhargayling did not experience harsh treatment from the Chinese. Nonetheless, Lobsang Tashi was aware of the Chinese oppression in Lhasa and the subsequent escape of His Holiness the Dalai Lama to India. Anticipating hardships imposed by the Chinese to eventually reach his village, Lobsang Tashi and his family fled to India via Nepal. He describes his life as a refugee in Nepal and India.
Interview Team:
Martin Newman (Interviewer)
Lhakpa Tsering (Interpreter)
Jeff Lodas (Videographer)
Interview Video
Link: Watch On Youtube
Topic: Interview with Lobsang Tashi on 7/3/2007
Length: 01:51:48